Trap
Updated 7/17/2023
Trap Chairman -
Jeff Aiken
jcaiken@fuse.net

Trap Maintenance-
Don Smith
(859)394-8065
Effective June 10, 2022, the new cost for birds will be:
Members - $4.00 Non-members - $6.00

'Trap' Keys
There is a $20 deposit when you are trained and given a key to open the traps. You will be refunded the $20 when you return the key upon ending your membership

Please allow pumps on traps 1&2 to warm up 15-20 minutes before shooting to prevent lost targets.

2023 Summer Trap Schedule

Sunday, May 21st
Sunday June 18th - Father's Day Brunch
Sunday, July 16th
***Postponed to Sunday, 7/23***
Sunday, August 13th
Sunday, September 10th - Chili Cookoff/Last League Shoot
Nip/Tuck - Sunday, October 15th - Memorial Calcutta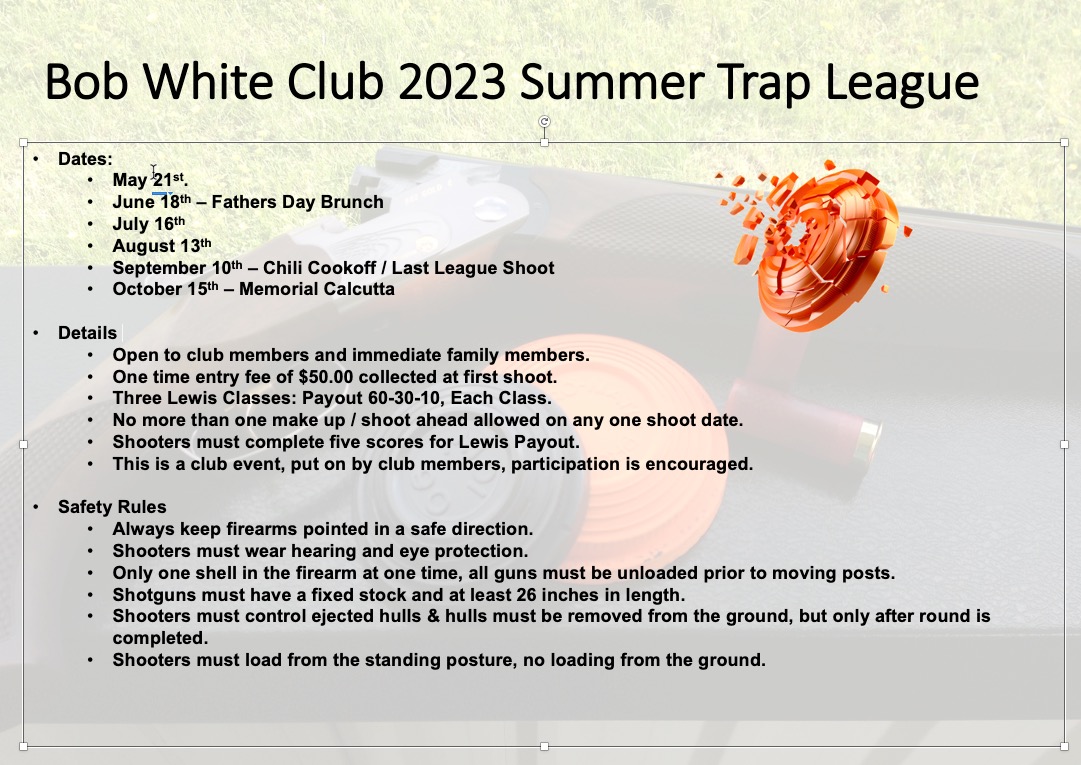 2020 Summer Trap & Lewis Class Results
(click here)
2020 Summer Trap League
Three-way tie for the top spot...
Steve Schneider
Don Smith
John Pferrmann
2020 Nip Tuck Winner
Mike Dirr
Great Job Joe Dirr for a wonderful summer season of trap shooting!!! Thank you!
2019 Summer Trap Results
(click here)
2019 Summer Trap League
The winning team is
Steve Schneider
Mike Dirr
Paul Melville
Dennis Lengle
Joey Stubbs
Gene Perry
2019 High Individual
Scott Plewke
2019 Nip Tuck Winner
John Pferrman
Northern Kentucky Top Guns
Scholastic Trap, Pistol and Rifle Programs
The scholastic shooting program introduces young people to the sport of shooting. Contact Dennis Menning at (859)743-9828 or (859)635-7221, scholastictrap@fuse.net or Facebook @ Northern Kentucky Top Guns